Strategic Policy Economics aims to help clients assess strategic opportunities related to emerging innovations or market place conditions. These innovations could stem from technology, market, or government policy drivers. Strategic Policy Economics helps identify creative approaches to positive benefits to all stakeholders involved considering the multiple government, regulatory, political, and commercial interests.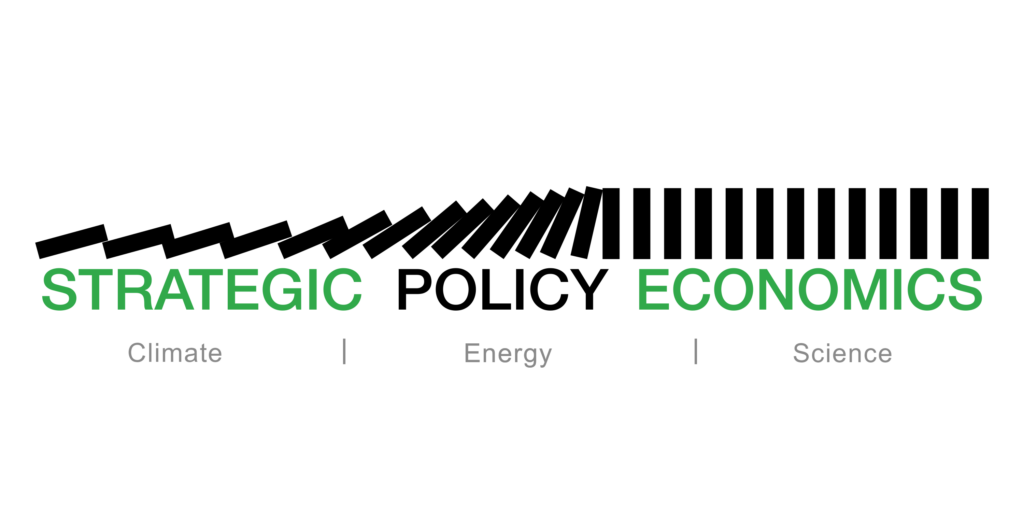 SETTING IT UP . . . . . . . . . MAKING IT HAPPEN
Assessment of strategic options and benefits is crucial in helping clients evaluate their goals:
Strategic Policy Economics helps clients define the implementation considerations and approach options that best respond to the driving factors and set up the operational framework to realize their vision.
As the initiative moves forward, Strategic Policy Economics further helps clients make it happen through the negotiation of agreements with involved stakeholders such as developing contractual arrangements covering the broad spectrum of mutual objectives, operational roles, and detailed financial terms.
Services
Strategic Policy Economics is focused on delivering the following core services:
Innovation and Opportunity Identification
Innovation, strategic opportunity, and market analysis
Economic indicator development and trends analysis
Customer adoption analysis and forecasting
Interplay between science technology and innovation
Facilitating multi-stakeholder discourses on opportunities in energy policy and industry response
Stakeholder Interest and Implications
Assessment of provincial, municipal, charity, and commercial interests
Stakeholder consultations through surveys, interviews, and multi-stakeholder workshops
Stakeholder relationship model development and assessment
Regulatory and legal implications analysis
Consensus development to support memorandums of agreement among industry stakeholders
Financial and Economic Assessment
Market research, sizing and forecasting
Financial modeling and implications for affected public and private stakeholders
Multi-stakeholder business case development
Investment requirements, risk assessment and scenario analysis
Stakeholder contract structure development and negotiation, both operational and financial
---
Experience in Core Focus Areas

The team at Strategic Policy Economics has worked directly with federal and provincial ministries, crown corporations and regulators, as well as with the private sector, municipalities, and non-profit organizations.
Experience in Climate
Working with a council of key stakeholders in Ontario, provided analysis to show the cost and emissions reduction potential of a possible integrated solution of nuclear, biomass, storage, hydrogen and distribution infrastructure in the province. 
Provided the analysis to support a report on the potential for a hydrogen economy in Ontario for an Ontario-based thought leadership group 
Provided inputs on the federal proposed Clean Fuel Standard and implications stemming from the electricity system.
Assessed the cost and carbon price implications in Ontario for achieving the Paris climate targets.
Assessed federal and provincial policy implications of cap and trade for Ontario.
Experience in Energy
Examined the effectiveness of competitive market mechanisms for meeting electricity system needs, and reviewed alternative procurement approaches.
Assessed the potential for using electric vehicle batteries as electricity storage options to contribute to Ontario's electricity system, and determined the value electric vehicle owners could realize by supporting such use.
Provided inputs to the Ontario Energy Board, IESO and the Ministry of Energy consultations on innovations in Ontario's energy sector ·Evaluated the opportunities for distributed energy resources in Ontario's future supply mix.
Developed several perspectives on the economic impacts of Ontario's Long-Term Energy Plan.
Assessed potential for purpose-grown biomass electricity generation in Ontario under evolving feed-in tariff regulations as the Green Energy Act was passed.
Developed business architecture and joint venture framework for distributed power in Ontario for two leading Ontario power and gas utilities.
Supported internal operational audits at large power generator Evaluated outsourcing and restructuring options for improving financial performance of a large Ontario utility.
Experience in Science
Performed a summary analysis of the Canadian Neutron Beam Center's performance and impacts.
Conducted two surveys of women in the nuclear industry for a major Canadian nuclear industry association, Women in Nuclear Canada.
Assessed the opportunities for McMaster University to invest in its research infrastructure.
Assessed the contribution to Canada of the Canadian Neutron Beam Centre's capabilities in materials science research.
Assessed the federal government opportunities and implications for small modular reactor (SMR) development in Canada.
Supported the strategic plan development for a not for profit collaboration of international interests in advancing research and development.
Developed detailed analysis for the federal government of the contribution of nuclear science and technology to Canada's overall innovation capacity and competitiveness.
Conducted global survey of the governance and funding mechanisms for energy research institutions, including primary research interviews with international research institutions and stakeholders.
Supported the NRCan Medical Isotopes Panel on Canadian alternatives to mitigating supply risk.
Developed a cost attribution model for a complex nuclear research laboratory that was welcomed by the OECD's NEA High Level Working group as the global gold standard in addressing cost equivalency challenges in the medical isotope sector.
Worked with an industry sector to identify opportunities for improving the value that can be obtained from industry-academic research collaborations in Canada.
Worked with the Canadian nuclear industry members to describe the nuclear science and technology ecosystem and its multi-stakeholder environment to inform the federal government and the industry members as to the value this ecosystem presents to Canada.
Advised Natural Resources Canada on:

AECL Nuclear Lab (NL) restructuring including relationships between AECL NL and Candu Energy.
Global Isotope supply security and implications to Canada
Financial approach and nuclear operational implications for restructuring of the Canadian Nuclear Laboratory.

Conducted global surveys on medical isotope security of supply involving primary research interviews with international stakeholders.
Developed program for the OECD NEAs Global workshop on medical isotope security of supply held in Paris in 2009. Involved interacting with and supporting the activities of several governments, industry representatives, and health organizations from over 10 countries.
Worked with educational institutions, handheld device manufacturer, telecom company, and textbook publishers to develop a strategy roadmap, pilot program business model, and pilot program partnership model for the introduction of handheld based learning in Canadian colleges.